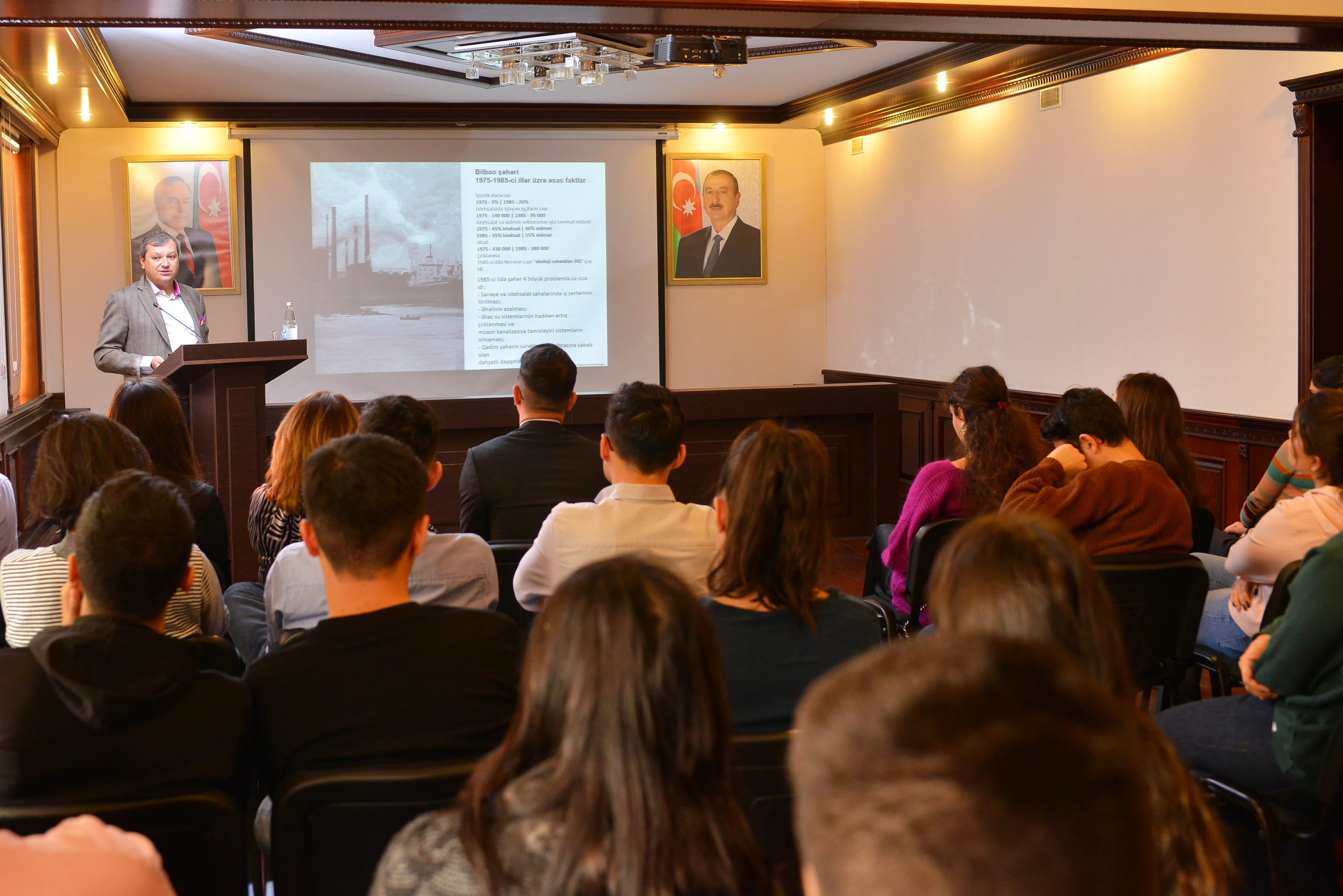 Famous architect Anton Khmelnitsky organized a meeting with students at the State Committee for Urban Planning and Architecture
The State Committee for Urban Planning and Architecture of the Republic of Azerbaijan always supports the development of new generation of architects in the country and their formation as specialists in the field of urban planning. The next event organized by the Committee was a meeting of influential architect Anton Khmelnitsky with students of Azerbaijan State University of Architecture and Construction.
Anton Khmelnitsky, co-founder of Foster and Partners, founder of the Architects of Invention, and head of the London office of the bureau, led by famous architect Norman Foster, led a number of renowned projects. The architect has been involved in significant projects in London, including the design of a modern building called Palestra, the headquarters of the London Climate Change Agency, the renovation of a historic building called Victoria House, and the co-author of such important projects as reconstruction and development of the Zaryadye Park in Moscow and the Red October public square.
The main aim of the architect's meeting with the students in the master class is to provide young people with examples of world experience in the practical importance of urban science, modern approaches to urbanization and urban environments. Emphasizing the importance of urban planning within a lecture welcomed by students, Khmelnitsky exemplified the development path of Bilbao, Spain.
The architect's presentation covered the process of turning Bilbao into a modern city, which was once a recession. It was reported that the 1983 flood caused a severe blow to Bilbao's economy and a Master Plan was developed to ensure future development of the city. As a result of the continuous and systematic implementation of large-scale projects envisaged by the Master Plan, the city has been revived, extensive public spaces, green spaces have been established, social and cultural and infrastructure facilities have been established. At the same time, a lecture on the challenges faced by the city of Bilbao over the past decades and the way in which it has been developed has a special place in describing the intersections of Baku.
The State Committee for Urban Planning and Architecture pays special attention to the training and professionalization of relevant specialists. The Committee will continue to implement these types of projects to encourage and educate young people specializing in architecture and urban planning.