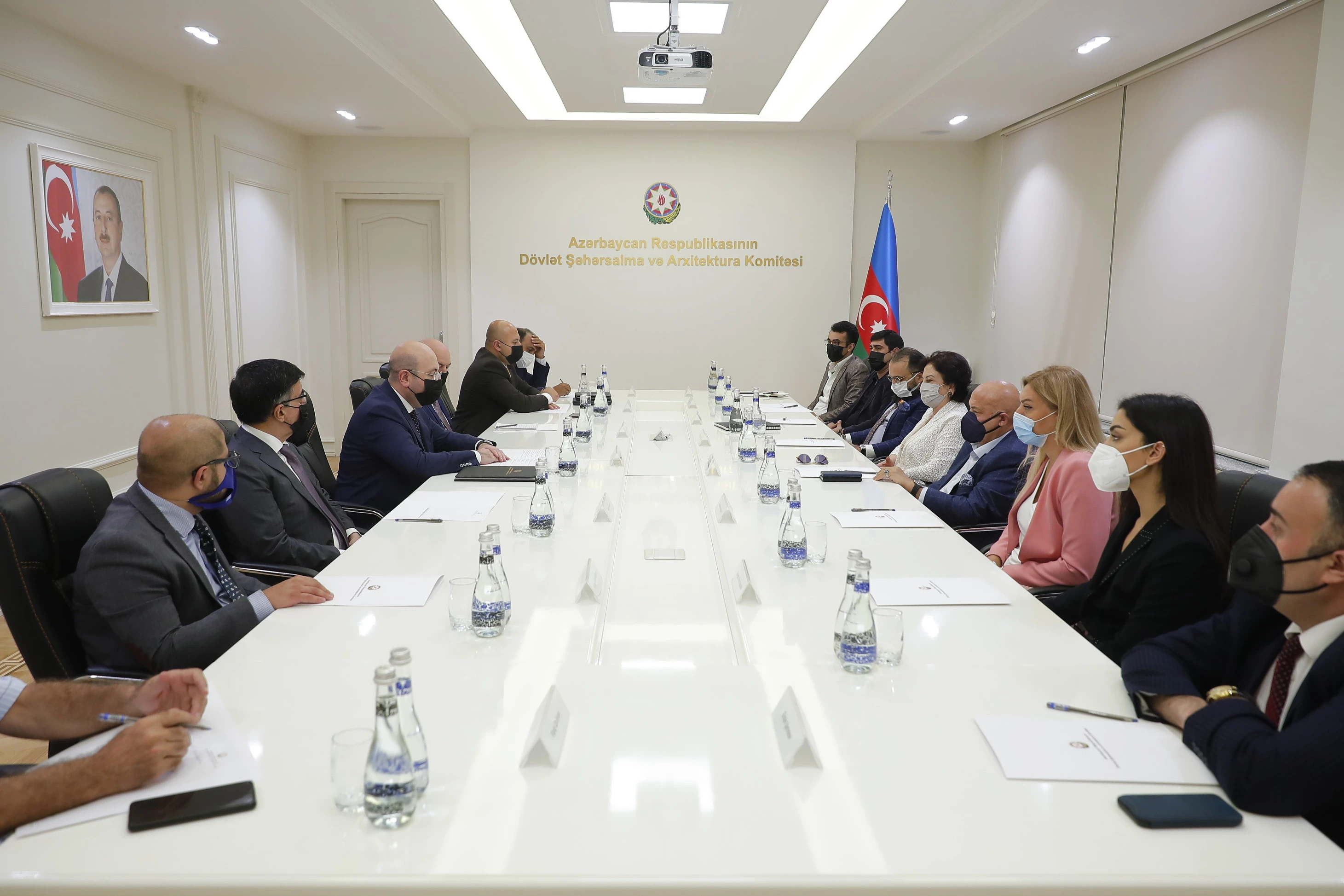 The Public Council under the Committee on Urban Planning and Architecture started to function
The Chairman of the Committee had a meeting with the members of the Public Council recently established under the Committee on Urban Planning and Architecture regarding the launch of the activity of the council. Anar Guliyev congratulated the members of the Council on their election to the organization, expressed confidence that the Council's cooperation with the Committee will be effective, and wished the members success in their activities. The chairman of the Committee emphasized that, the activities of civil society institutions have expanded, NGOs have been actively involved in development and state building processes, and state-citizen relations have reached the new development stage in recent years due to the successful state policy pursued under the leadership of President Ilham Aliyev. It was noted that the Public Council under the Committee was established based on the President's instructions on strengthening public control over the activities of government agencies and the requirements of the legislation in this field.
"We grant special importance to close cooperation with civil society taking into account the interests of citizens and public opinion in decision-making in the field of planning and organization of urban planning activities, I believe that the Public Council, which began its work today, will make a significant contribution to the expansion of healthy and constructive dialogue, strengthening interaction with society, ensuring the principles of scientific justification, transparency and justice in urban planning, "the Chairman of the Committee emphasized.
During the meeting, the Council members were informed about the major reforms in the field of urban planning and architecture initiated by the head of the state, the main projects implemented by the Committee and future plans, had discussion on the topic. The members of the Public Council noted that they would justify the voter confidence of civil society representatives, more effective solutions to current issues related to urban planning and architecture would be achieved through public discussion. They thanked for the meeting and sincere conversation.
Then, at the closed meeting of the members of the Public Council, the decisions were made on several organizational issues, including the election of the chairman, deputy chairmen and secretary of the council, and the regulations of the future activity were adopted.
______
Members of the Public Council under the State Committee for Urban Planning and Architecture were elected by 112 NGO representatives for a two-year term. The elections held by secret ballot on September 11, 2021, in accordance with the requirements of the relevant legislation. 11 members out of 18 candidates nominated to the Public Council by civil society institutions were elected by a majority of votes.